Product Description
Tech Specs
Pedal Type:

Quad Octave Generator

Analog/Digital:

Digital

Effects:

4 x Octave Controls, Tremolo

Presets:

3 x User Presets, 1 x Live Mode

Inputs:

1 x 1/4"

Outputs:

1 x 1/4"

Other I/O:

1 x 1/4" TRS (expression pedal)

Bypass Switching:

Smart Momentary Bypass

Power Source:

9V DC 300mA power supply required (sold separately)

Height:

1.54"

Width:

4.67"

Depth:

3.68"

Weight:

0.83 lbs.
4-voice Polyphonic Octaver with User Presets and EXP In
Blaze new trails with the Walrus Audio Luminary Quad Octave Generator. Fast tracking and packed with performance features, the Luminary makes reality the tones you've only dreamed of. Four independent octave levels and a continuously variable Dry/Wet control dial in rich soundscapes and approximate some classic instruments: upright bass, ballgame organ, '70s synth, and more. Attack (bloom), Flutter (chorus effects), and Filter (lowpass/envelope) controls are included to further bend tones to your will. Apart from its lush sounds and faithful tracking, two features that set the Luminary apart are its three recallable user presets and 1/4" expression pedal input, the latter of which enables foot control over any of five parameters.
5-octave spread
Organ pads. Steel drums. Angelic choruses. Synth leads. Classic fuzz and 12-string tones. Electric bass. These are just some of the tones you can approximate using the Walrus Audio Luminary. Two octaves above and below your signal, alongside Attack, Filter, and Flutter controls, make the Luminary an essential for any tone entrepreneur.
Fast, faithful tracking
The Sharc-powered Walrus Audio Luminary quickly and faithfully tracks instrument input to generate four additional octaves on either side of your signal. Chords, pads, leads, basslines — the Luminary will take you places on your instrument you've never thought possible.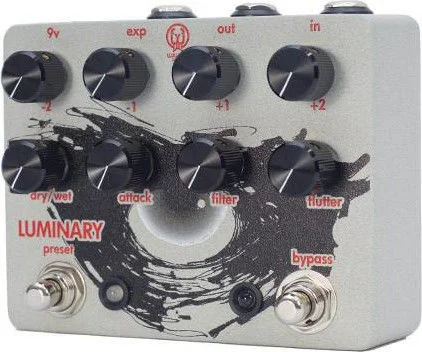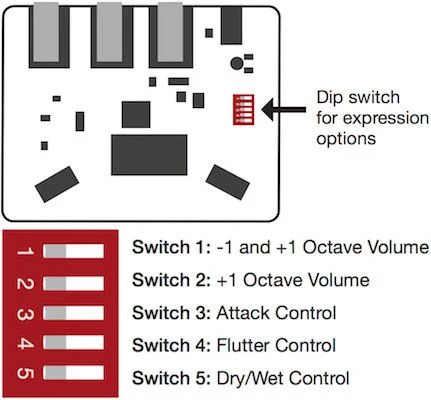 Expression pedal input
Luminary features a 1/4" expression pedal input to keep knobs from standing in the way of you and your creativity. Five internal dip switches assign most of the Luminary's principal control functions — octave levels, Attack, Flutter, and Dry/Wet blend — to a single expression pedal, for fluid, hands-free texturizing on the fly.
Three user presets
Luminary also lets you save and recall three user presets in addition to its live mode, giving you four distinct, completely recallable sounds from which to create textures at any given moment. Preset numbers are indicated at a glance by red, blue, or green Preset LED.
Walrus Audio — built by sound-tweakers for sound-tweakers
The artists, musicians, and engineers at Walrus Audio take pleasure in chasing sounds that inspire, like the perfect breakup of an overdrive, a beautifully thick distortion, an endlessly sustaining reverb, and a self-oscillating delay. Simply put, these guys love to play with sound. They design stompboxes that re-create the sonic textures that they hear in their heads. Built by sound-tweakers for sound-tweakers, Walrus Audio's guitar pedals are as versatile as they are functional.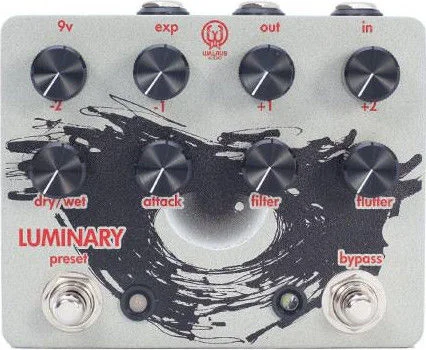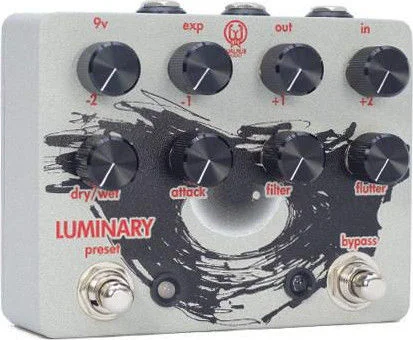 Walrus Audio Luminary Quad Octave Generator Pedal Features:
4-voice polyphonic octaver
-2, -1, +1, and +2 octave controls with independent levels
Continuously variable Dry/Wet control
Attack control determines octave onset time after the initial attack
Filter control functions as a lowpass filter at lower settings and an envelope at higher settings
Flutter control introduces tape-like chorus effects to full-on ring modulation
1/4" expression pedal input assigns any of 5 parameters to your pedal
Preset switch with R/G/B LED indicator saves and recalls 3 user presets
True bypass switching preserves your tone when the effect is switched off
Requires a standard center-negative 9-volt power supply (250mA minimum; not included)
Product Videos
Custom Field
Product Reviews